SkiJapan.com Mountain Guiding has never been so easy to request and book your Hokkaido Adventure Day in Dreamland. Get set for a privately guided day you'll never forget!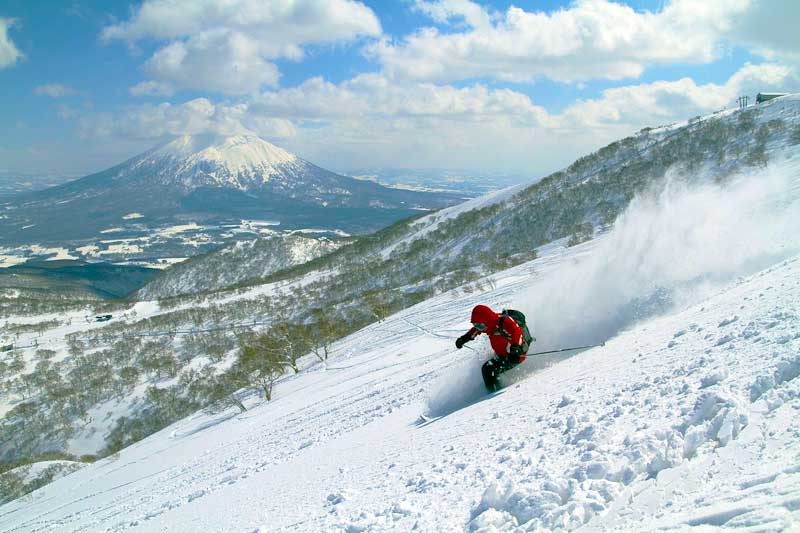 Program Guide
BACKCOUNTRY TOURING
Includes important information on tours, pricing, ability chart and terms & conditions
Inbounds or Backcountry Day Tours with SkiJapan.com
SkiJapan.com Mountain Guides are experts in their field, possessing many years of detailed knowledge and experience of Grand Hirafu Niseko, the surrounding resorts of Moiwa, Rusutsu, Kiroro, Kokusai and Teine plus our legendary Niseko back country. Our Guides are professionally trained and certified as APS Instructors, CAA Back Country & Avalanche Safety Awareness Camps with First Aid and CPR. Provision of our own safety back packs and transceivers are issued for all guests guided out through the gates and back country programs.
Note: Lift passes are not included in packages and to be purchased separately. For resorts outside of the Niseko United 4 mountain resort, additional lift pass costs will apply on top of pre-purchased Niseko All Mountain passes. * An additional fee of 10,000yen per day also applies when choosing Teine and Kokusai Resorts.
For more information please contact our guiding team directly on guiding@SkiJapan.com
Niseko Half Day
¥

45,000

1-5 people
Half Day
Intermediate
Inbounds areas ONLY
Extra person +¥5,000
Maximum Group Size 7
Book Now
Niseko Full Day
Most Popular
¥

58,000

1-4 people
Full Day
Intermediate
Inbounds areas ONLY
Extra person +¥5,000
Maximum Group Size 7
Book Now
Niseko Backcountry
¥

58,000

1-5 people
Full Day
Intermediate – Advanced
Backcountry & Inbounds areas
Extra person +¥5,000
Maximum Group Size 7
Book Now
Hokkaido Discovery
¥

60,000

1-5 people
Full Day
Select from 5 resorts – Rusutsu, Moiwa, Kiroro, Kokusai and Teine
Intermediate – Advanced
Extra person +¥5,000
Maximum Group Size 7
Book Now
5 Day Assault
Most Popular
¥

300,000

1-5 people
5 Full days
Niseko's 4 Mountains plus choice of nearby resorts of Rusutsu, Moiwa, Kiroro, Kokusai and Teine.
Intermediate – Advanced
Extra person +¥50,000
Maximum Group Size 7
Book Now
TOURING
¥

58,000

1-5 people
Full day
Advanced skiers ONLY
Skinning, hiking or snow shoeing to peak areas such as Chisenuppuri, Goshki, Iwaonuppuri.
Extra person +¥5,000
Maximum Group Size 7
Book Now
Rod is the best; Kate spent the entire week skiing with him, super helpful, loads of fun, what you would expect from an Aussie turned Japanese!

Les, Hong Kong
…everyone thoroughly loved it, getting to ski powder unlike any other. It makes a huge difference having someone who knows the mountain – from a terrain and safety point of view. We'll definitely be in touch if and when we come for a return trip.

Robert, Hong Kong
Your knowledge of the area is incredible and your ability to tailor make the day to level of your guests abilities is second to none. …thank you for a fantastic experience. I cannot wait to get over there again and rip into that fantastic powder with you.

Paul, Australia
We all thought the time with you was a really positive outing. You certainly have a talent beyond the norm for guiding.

Peter, Australia
It really was an incredible trip, made even better through your knowledge, reliability and flexible approach to our circumstances.

James, Australia