This page will be updated when we get new information from the government so please check back always.
Last Update: 18 Nov 2022
Border Update:
From October 11, 2022, Japan has resumed visa-free travel and accepting individual tourists.
Triple vaccinated travelers entering Japan are no longer required to take a pre-departure PCR test. The daily entry caps have also been abolished and there is no longer a need to apply for a visa to enter Japan.
For more information on entering Japan, you can refer to the Japan National Tourism Organization's (JNTO) website: General Checklist For Traveling to Japan
Below you can find more information on what this means to you as our guest and how we can provide you with a holiday package where you can experience Japan with us!
Who is currently allowed to travel to Japan?
Currently, entry to Japan is open to travellers from 128 'low risk' countries. The Japanese government has separated all countries into 'red', 'yellow' and 'blue' categories, based on covid safety levels. The 128 "low risk" countries are categorized as "blue" (which include Australia, Britain, most of Europe, the US and Canada) and travellers from these areas do not need to quarantine or test upon arrival. To check if your country is in the list, please visit: https://www.mhlw.go.jp/stf/covid-19/bordercategory.html
What is required to travel to Japan and what about visas?
According to the latest update from the Japanese Government (22nd September), in order to enter Japan tourists simply need to:
Book your ski resort accommodation, lift passes and transfers with Ski Japan Travel.
Have stayed in a Group Blue country for 14 days prior to arrival.
Have a travel insurance plan that covers covid-related medical expenses and disruptions.
PRE ARRIVAL INFORMATION
There are still some processes in place in order to enter Japan but entry is relatively easy, providing you have completed all of the required steps. Visit Japan Web is a web service that people entering to Japan and Japanese returning to Japan can use for Quarantine, Immigration and Customs procedures in order to enter/return to Japan.
Please check the Visit Japan Web for further information.
For more information on entering Japan, you can refer to the Japan National Tourism Organization's (JNTO) website: General Checklist For Traveling to Japan
Do I need to be vaccinated to go to Japan?
There is no vaccination requirement if you belong to the low-risk/blue group of countries. If you have resided in a low-risk/blue group within 14 days of travel, you will still be required to return a negative PCR test 72 hours prior to arrival.
Do I need to do a pre-departure Covid test?
From 7 September 2022 a negative pre departure PCR is no longer required providing you are fully vaccinated including booster (Vaccines by Pfizer, Moderna, AstraZeneca, Janssen, Bharat Biotech and Novavax are recognized) and coming from a low risk (Group Blue) country. Full details can be viewed on the Ministry of Foreign Affairs website, click here.
Do I need to download any tracing apps in Japan?
Besides the MySOS App, which is designed as a Fast Track App, there is no requirement to download any apps to enter Japan.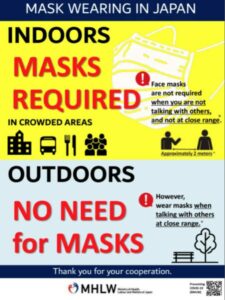 What measures are in place when I arrive in Japan?

Japanese are travelling within their country and life in Japan is back to normal with restaurants and sights welcoming back visitors.
The Japanese government has established a set of etiquette guidelines for tourists and locals. You'll quickly notice most people will be wearing masks and there will be no shortage of hand sanitizer in public places. Japan still uses markers on shop/ store floors to encourage social distancing and digital thermometers at entrances plus plenty of "please wear your masks signs" throughout the country.
Please see guidelines from the The Japan Tourism Agency in the infographic below and from this link.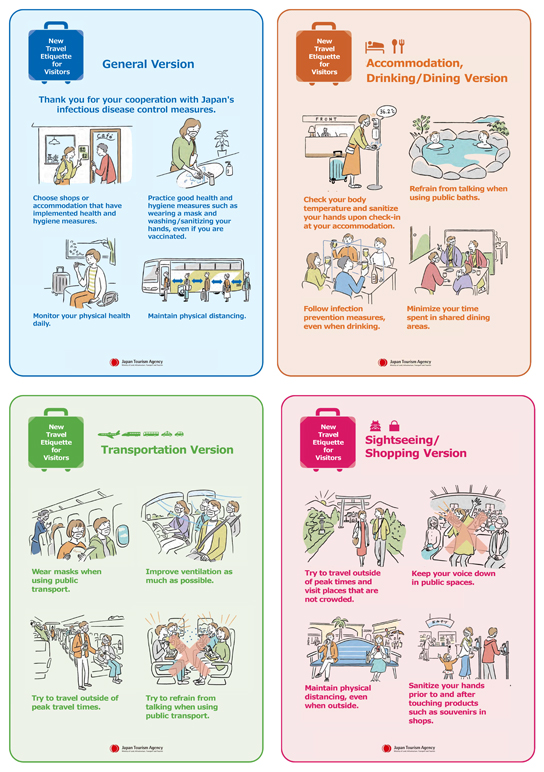 Will I need to wear a mask in Japan?
Yes – mask wearing is still required to a certain degree although in Japan, all Covid "requirements" are actually advisory rather than set in law.
The Japanese government has slowly been easing restrictions on mask wearing, allowing more freedom to take masks off when outdoors or in places that have good ventilation, proper social distancing, or a general lack of conversation. You will notice that many people are choosing to continue wearing masks regardless of the rules.
While official rules have been changing, after two years of mask wearing many are still reluctant to take masks off in public settings. The current guidelines on wearing masks can be seen here.
What happens if I get Covid during the trip?
Should you contract coronavirus during your travels, you will have access to our 24/7 customer support team available to assist you. We have protocols in place to ensure that any testing, self-isolation, or doctor visits will be conducted to keep you and your group safe and ensure everyone's trip is as smooth and safe as possible. We also highly recommend travel Insurance with medical cover.
JNTO provides information on preventive measures and FAQ. In the event you feel unwell during your visit, refer to the In Case of Emergency page.
There are several hotlines available to help travelers who need advice.
The Ministry of Health, Labor and Welfare (MHLW) multilingual hotline is staffed from 9 am to 9 pm (Japan Time) daily. Information is available in English, Korean, Chinese, Portuguese, Spanish, Thai and Vietnamese. Some language support is offered at different times.
0120-565653
The Japan Visitor Hotline is available in English, Chinese, Korean and Japanese 24 hours a day.
050-3816-2787