Japan' fifth largest city, Sapporo is a clean, friendly and relaxed city where you can experience nature, great cultural and historical sites and amazing food! No matter what time of year you visit, there's plenty of fun-filled activities to enjoy.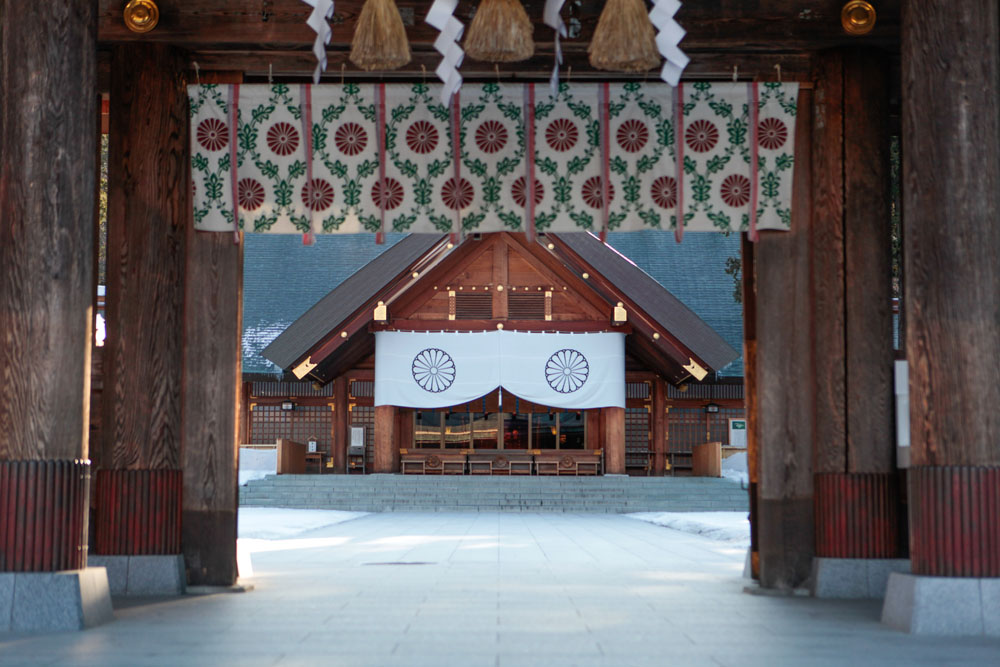 Hokkaido Jingu
No trip to Japan is complete without visiting a traditional Shinto shrine, and Sapporo's "Hokkaido Jingu" is the largest and most significant on the island. The site was first established in 1871, and enshrines four deities including the "God of Emperor Meiji". Make sure to get yourself a fortune from the counter (English available), and offer a prayer at the main shrine.
Access
Get the subway to "Maruyama-Koen", and walk about 5 minutes through the park to access the main shrine.
Mt. Moiwa Ropeway
The most stunning lookout over the entire city of Sapporo with views right out to the ocean on a clear day. The 1.8km gondola ride takes about 5 minutes and is followed by a short 2 minute ride in a mini cable car, which reaches the summit. Return Tickets to the summit are ¥1,700 and can be purchased at the ropeway base. For the best views, aim to arrive at the summit for sunset to see the twinkling lights of Sapporo city against a twilight sky.
Access
Take a street-car to "Ropeway Iriguchi", and walk 1 minute across the road to the Mt. Moiwa Ropeway shuttle bus stop, where the free shuttle bus will take you to the ropeway.
Susukino Downtown Area
The central nightlife district of Sapporo, Susukino, is a hive of activity with hundreds of bars, restaurants, nightclubs and karaoke hot spots across many city blocks.
Ramen Alley, famous for some of the best ramen in Sapporo, is a hidden alleyway packed with tiny restaurants, located just off the main Susukino strip. If Japanese pub food is more your thing, try one of the many Izakaya's in the area serving zangi (Japanese fried chicken), grilled fish and BBQ meat served alongside sake and beer.
Important Safety Tip: If you're out late, resist the urge to walk back to your hotel – it is common for tourists to get lost and pass out in the snow late at night so make sure to take a taxi home after a big night. For best results, take a business card from your hotel with their address, and show it to your taxi driver.
Access
Take a street-car or subway to "Susukino" station and walk south from the main intersection.
Sapporo Beer Museum
This popular museum celebrates Sapporo's rich history through the love of beer with displays featuring antique posters and Hokkaido's early pioneers. The red-brick museum consists of three floors and is free to enter and explore with the option of a paid tour. Visits conclude in the beer hall where guests can sample a range of beers, including "Kaitakushi Beer", exclusively available at the museum.
Access
From Sapporo JR station, catch either the 188 bus from stop No.2 on the north side or the 88 bus from the south side of the station. Alternatively, taxis cost around ¥800 from Sapporo JR station.

Sapporo Snow Festival
Now in its 70th year, the Sapporo Snow Festival is Hokkaido's largest festival with three major sites. The main site in Odori is the largest with dozens of enormous snow sculptures across the entire park with food stalls lining the path. The Susukino site features intricately detailed ice sculptures set against the bright lights of the famous nightlife district. The Tsudome site is the most family friendly with huge slides and activities for all ages.
Access
To access the Odori and Susukino sites, simply take the subway to the station of the same name. For the Tsudome site, catch a subway to Sakaemachi station and get on the shuttle bus to the site.
Shopping
Sapporo JR station has hundreds of boutique clothing and accessory stores featuring up-and-coming designers, as well as high-end fashion brands. The upper floor even has a Disney store and a Snoopy store!
Sapporo Factory hosts most major outdoor brands like Mammut, as well as clothing and souvenir stores. This shopping hub features a large atrium and is located at the site of the original Sapporo Beer factory, which can be freely explored.
Tanuki-Koji is an undercover shopping arcade with traditional and independent stores. Drop into MOJANE snowboard shop at the eastern end for a selection of the best gear and locally made snowboarding videos.
Shugakuso is a haven for backcountry enthusiasts, with mountain maps, tents, touring accessories and more.

Getting Around
Sapporo is a relatively small city, navigation is straightforward with lots of public transport, underground walkways and taxis everywhere. If you are going to be using public transportation often, get an electronic card like Kitaca to simply tap on and off without worrying about purchasing tickets every time. These can be bought and filled up at most stations, and used throughout major cities in Japan. Note: Kutchan station does not use electronic cards.
There are a number of underground walkways along common routes to keep people out of the cold. There's even an underground walkway all the way from Sapporo JR station to Susukino!
Taxis in Sapporo are everywhere and can be quite cheap to get around in if you're in a group of four people. If the place you want to go is not near a subway or streetcar stop, stay out of the cold and jump in a taxi!
To stay in Sapporo and make the most of your Japan trip, contact our team of experts today.