Natural occurring hot springs, known in Japan as onsen, are in abundance throughout the country and are a part of the rich culture.
Visiting an onsen offers the opportunity to encounter the beauty of the Japanese landscape and culture, allowing those who enter to relax and rid themselves of stress. Moreover, the physical effects of bathing, along with the onsen's natural minerals, stimulate the body and are said to improve its natural ability for self-healing.
In the long history of onsen, Japan's own hot spring culture has never changed, and in that culture, there are manners and etiquette that visitors need to abide by to ensure a homage is paid to those traditions. Onsen can be found all over Japan, including at many of Japan's best ski resorts including Niseko, Hakuba, Rusutsu and many more.
Preparing for an Onsen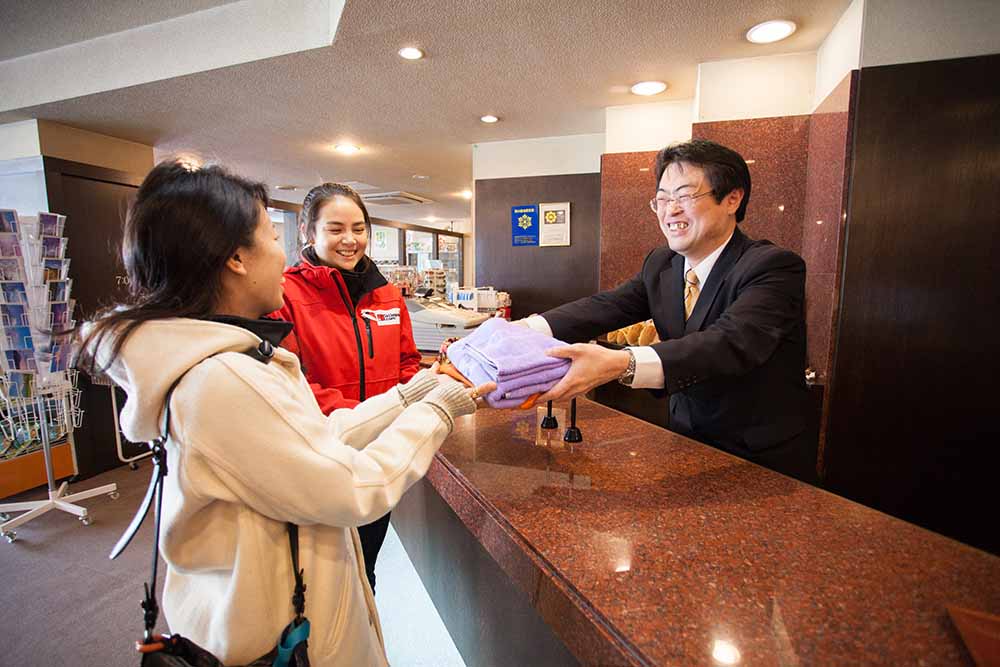 Most onsen are privately managed and require an entry fee ranging from ¥500 – ¥1,500. It is also required to bring a towel, or in most cases, rent one from the establishment itself. There are two kinds of towels utilised when visiting an onsen. The first is a small towel which is taken into the onsen to help clean the body before entering the baths, with a regular towel remaining in the changing room, only to be used to dry once exiting the onsen.
There are separate baths for men and women at most onsen, although there are some mixed onsen like the Grand Hotel Onsen in Niseko. For females, head through the red door/curtain, and for men, blue. Once in the changing rooms, find an empty basket to place your clothing and belongings. Place everything in the basket except the small hand towel and any personal toiletries. Almost every onsen throughout Japan requires its guests to be completely naked. The small hand is for removing excess water when exiting the baths, but they can also be used as 'modesty towels' for those who wish to cover themselves. Ensure all jewellery and accessories are removed as the high mineral composition of the water can damage them.
Entering the Onsen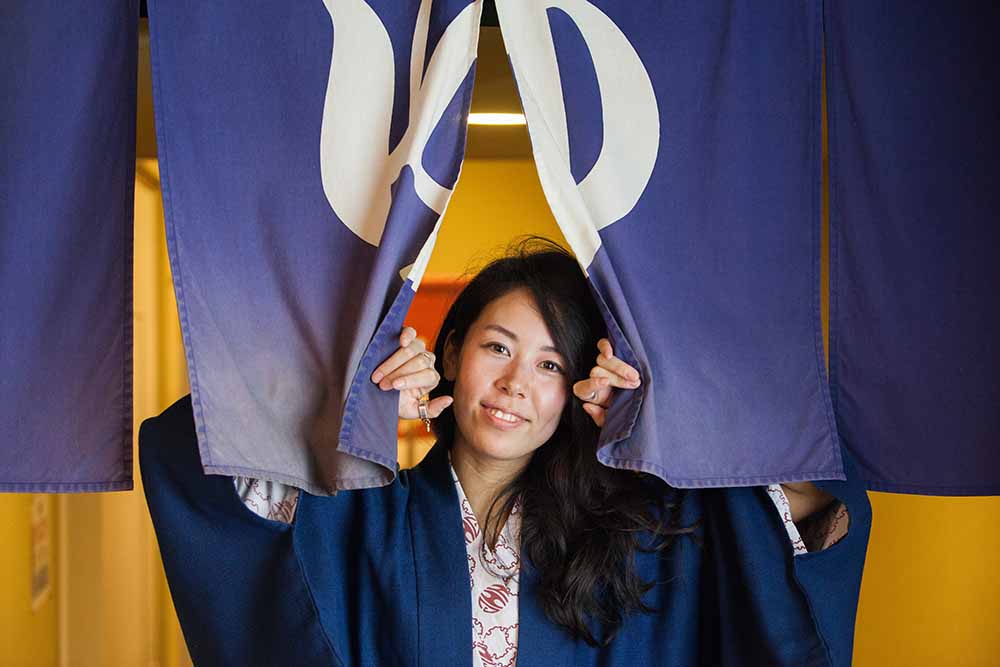 Once inside the onsen facilities, it is a requirement for guests to thoroughly clean themselves before entering the baths. This is so the water in the baths remain as clean as possible and not doing so is a sign of disrespect. The average temperature of an onsen is between 39-42 degrees Celsius. For those who aren't accustomed to high temperatures or coming in from a cold climate outside, it is recommended to slowly work your way into the bath by putting your feet in first, then your hips and so on. Try to disturb the water as little as possible so not to disturb other guests. Heads are never to be submersed as the minerals in the water are both bad for hair and health if ingested. Regardless of the size of the bath, swimming is also forbidden. The small hand towel is also never to enter the water, it may be left outside the bath or folded it up and placed on top of the head.
Many onsen will have a variety of baths, so visitors are welcome to change baths as often as they like. Saunas are also commonly found at many onsen and are quite popular. Most visitors to onsen will typically spend between 20 minutes to 1 hour soaking in the baths, but time spent in the baths is at ones own discretion. Guests with tattoos are not permitted at many onsen in Japan, however exceptions are often made for foreign patrons. Some onsen will grant access if tattoos are simply covered with medical tape.
Exiting the Onsen
When exiting the onsen, proceed to wipe the entire body down with the small washcloth before re-entering the change room. Grab the larger towel and attempt to keep the change room as dry and clean as possible while drying. Make sure to utilise the free water stations in the change rooms as slight dehydration may have set in. In most cases, the onsen will offer yukata, which is a type of kimono that can be worn while utilising the brush facilities and hair dryers to get ready before getting changed. Return the towels and yukata in the designated box or reception, and enjoy the feeling of relaxation offered by these wonderful onsen.
Rest, Relax and Reap the Benefits
After exiting the onsen baths, many facilities have a relaxation area where you can unwind and wait for friends while enjoying a massage chair or a quiet nap. It's a good idea to allow the body to rest for at least 30 minutes after bathing to allow the body to fully recover.
Onsen water is believed to ease neuralgia, alleviate muscle pain and the symptoms of chronic skin disease. It also relieves chronic fatigue and stress. Since ancient times, onsen water has been renowned for helping maintain beautiful skin. There is a total of 19 different types of onsen water which are classified by their mineral composition including; chloride spring, sulphate spring, ferruginous spring, sulphur spring, and aluminium spring. These minerals have long been regarded by the Japanese to aid in illness and injury as well as enhancing beauty. The onsen's composition also removes the old cornified layer of skin, resulting in the rejuvenation of the skin. The water vapour also produces a moisturising effect.
Variety of unique bathing methods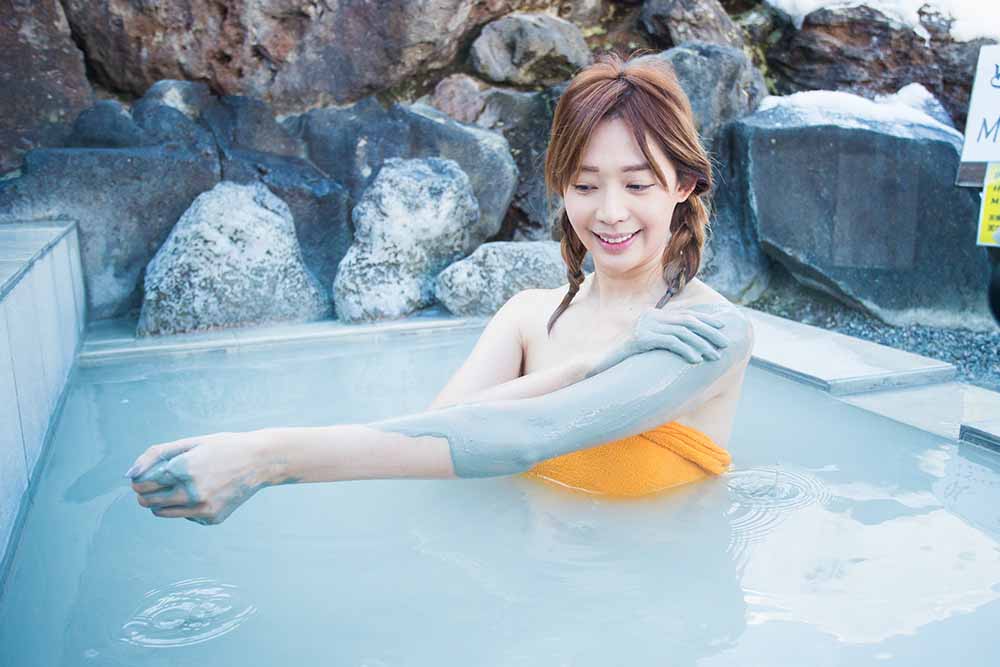 Keep an eye out for these unique facilities which are said to provide unique benefits:
Utase-yu (waterfall bath) – This type of bath features hot water that falls from a high location, relieving muscle pain through pressure and warmth.
Mushi-yu (steam bath) – "steam box" where the body is immersed in steam reaching the neck, or a unique bath for haemorrhoids that steams the posterior only.
Suna-yu (sand bath) – The suna-yu is a type of steam bath where the bather rests inside sand that has been warmed by chloride spring water that gushes forth at the coast.
Deiyoku (mud bath) – Deiyoku refers to a bath where the bather submerges themselves in mud that contains onsen components.
One of the most famous onsens which features a mud bath is Yukichichibu onsen near the ski resort of Niseko. There are a large number of mud baths as well as a great view of the surrounding landscape.
Step By Step – How to use an Onsen
Buy a ticket and rent a towel set if you don't have one with you.
Enter either the men's or women's change rooms.
Get completely naked and put your valuables in a locker. Leave your big towel with your clothes and bring the small towel with you.
Enter the next room, find a shower stall, and thoroughly wash yourself.
Enter any of the onsen baths. Bring your small towel with you, but do not immerse it in the onsen bath.
Feel free to move between the different baths.
When finished, we recommend a quick shower to rinse off minerals or chlorine from the baths.
Before entering the change room, use your small towel to wipe off excess water from your body.
Enter the change room and use your big towel to completely dry yourself
Put your clothes back on (or Yutaka if provided) and collect your valuables.
Return your towel or place it in the collection baskets.
Exit the change room and enjoy the relaxation facilities. (Return your Yutaka when finished).
That completes the onsen experience!
If you want to discover the traditional onsen of Japan during a ski trip, contact our team today.