Skiing in Hakuba rose to its fame after hosting the Nagano Winter Olympics in 1998. The valley consists of ten resorts – Jiigatake, Kashimayari, Sanosaka, Goryu, Hakuba 47, Happo One, Iwatake, Tsugaike Kogen, Norikura, and Cortina. With so many different resorts and limited time on the mountain, it can be difficult to decide which resort to visit and which resort to miss during a holiday in Hakuba. Continue reading for a comprehensive guide for skiing in Hakuba, covering which ski resorts are best suited for everyone's differing needs.
Looking for family-friendly while skiing in Hakuba?
Goryu / Hakuba 47 – As the resorts are connected, Goryu and Hakuba 47 provide a whole day of family fun, as there are beginner to advanced runs, with the runs groomed daily. There is also a variety of terrain, with a terrain park at Hakuba 47 for those looking to practice new skills.
Tsugaike Kogen – Tsugaike Kogen is a great family-friendly resort with the inclusion of a terrain park and the Snow WOW activity area. Activities at Snow WOW include Amidas (3 layer ropes course), snow tubing, snow racing, snow driving, snow skating, fat bikes, toboggans and even paraglide towing to keep kids (and adults) entertained all day long.
Sanosaka – Sanosaka is a great family-friendly option with its recent upgrade in 2020. The views overlooking Lake Aoki are something that everyone can appreciate, and the upgraded terrain park provides varying levels of tricks to practice. Tree runs are also available this year, meaning more advanced riders enjoy thrilling powder runs, and dogs are even allowed on some runs, making the resort perfect for the whole family.
Looking for groomed runs?
Groomed runs can make riding a smooth and pleasant experience, with fresh corduroy tracks coveted after by beginner skiers and intermediate/advanced snowboarders alike. Whether practising turns or freestyling and buttering on a snowboard, a groomed run can be enjoyed by many on the mountain. However, not all resorts are groomed every day, so we would recommend choosing these resorts during your stay while skiing in Hakuba.
Goryu / Hakuba 47 – These runs are groomed daily so there will be no questions deciding which resort to visit if groomers are desired. The gentle slopes in Goryu are more beginner-friendly, whereas Hakuba 47 has intermediate/advanced runs that are more challenging – as well as having the best terrain park in Japan to practise tricks and jumps.
Tsugaike Kogen – This resort has a great variety of runs for beginners to advanced riders. While Tsugaike Kogen can be great on a powder day, the resort grooms their runs every day so that runs are smooth and avoid building up moguls.
Norikura – Norikura is great for families wanting to learn and progress together. The front slopes are wide open, making it great for getting photos and videos of every family member learning to ride.
Want to experience all the powder snow?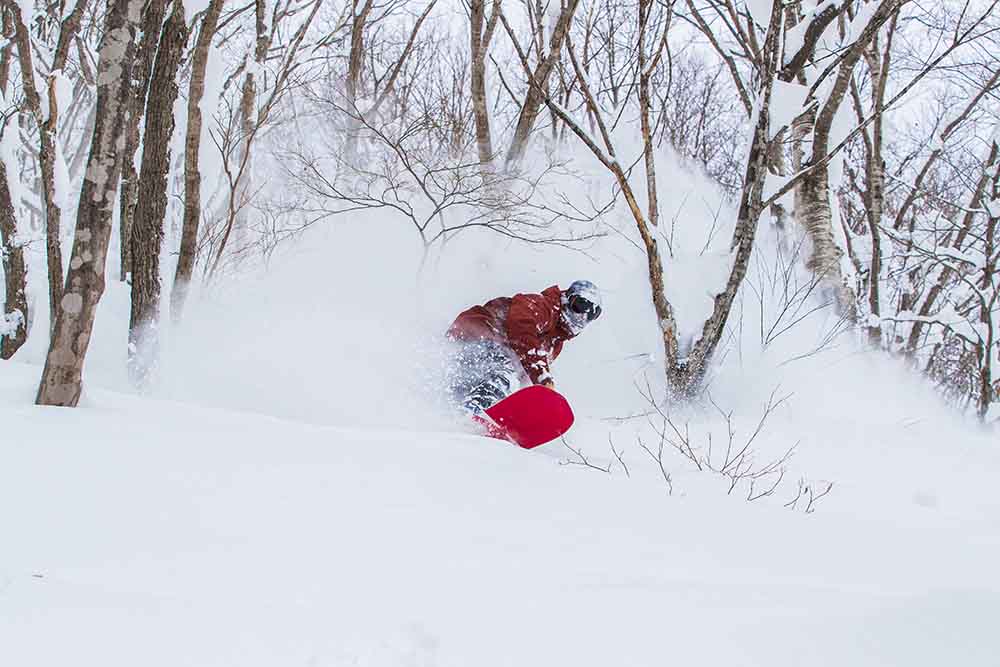 Japan is famous for its dry powder snow, and skiing in Hakuba is no exception. Some resorts are better suited for those that are powder hungry, so we would recommend visiting these slopes for a fix of powder during your trip.
Cortina – Cortina is known for its powder tree runs. The resort is shaped like a bowl and therefore catches a lot of powder when there is snowfall. Because tree runs are the predominant runs offered at Cortina, these would be best suited for strong intermediate to advanced skiers and snowboarders.
Tsugaike Kogen – While we recommended Tsugaike Kogen for groomed runs for beginners, it has some fantastic powder pockets on the top half of the mountain. First tracks are always smooth riding and can be waist-deep in the morning. There is also a designated Tsuga Pow DBD run which is perfect for those looking for deep powder.
Looking for beginner-friendly?
Norikura – Norikura has some of the best terrain in the Hakuba Valley for learning to ski & snowboard as well as progressing skills. There are wide open runs which make it perfect for beginners, and there are some slightly more challenging runs for progression.
Goryu – Goryu resort is groomed every day and has wide, gentle gradient slopes in the Toomi Zone (Escal Plaza) and Iimori Zone (Hakuba Snow Sports School) that are perfect for beginners practising turns, without picking up too much speed.
Tsugaike Kogen – Tsugaike Kogen is well-groomed and has two beginner-friendly runs at the bottom – Kane-no-naru-oka 1 and 2. Both are widespread with gentle gradient slopes ideal for learning.
Kashimayari – This resort is ideal for children learning to ski, with a magic carpet and hoops/slides. The resort is also much smaller than most other resorts, meaning there are fewer runs and variety in terrain – however, there will be minimal waiting for chairlifts.
Jiigatake – Jiigatake is a beginner-friendly resort located close to Omachi town (about 30min drive from Happo One). The resort is less occupied but has a lower snow depth to the other resorts due to the low elevation – meaning runs are closed more often. This resort would be suitable for a beginner looking to practice by themselves, as there will be minimal waiting for chair lift queues.
Want to practice your technique with mogul runs?
Happo One – Happo One has multiple runs targeted for mogul lovers, with the runs located throughout the mountain. Select areas on runs are kept ungroomed to practice these tight turns – including on Alpen Ridge, Riesen Grat Course, Central Course, Olympic Course I/II, Kurobishi Slope, Usagidaira Slope and Kitaone Course.
Sanosaka – Sanosaka has a specialty artificial mogul course which is very popular due to its strategic bump placement and continual remakes. This resort would be perfect for someone wanting to challenge technique with a great view.
Norikura – This resort maintains the mogul course almost every day, located under the No 3 High-Speed Chair Lift.
Love the terrain park?
Hakuba 47 – Hakuba 47 is known for one of the best terrain parks in Japan. This park has a well-maintained half pipe, ten kickers ranging from small to 20m high, jib rails, boxes and berms for beginners to expert park enthusiasts.
Tsugaike Kogen – TG Parks at Tsugaike Kogen is one of the largest terrain parks in the area, and is the highest altitude terrain park in the Hakuba Valley. The split locations of the terrain parks means freestyle enthusiasts have uninterrupted park access regardless of snow conditions. There are a variety of kickers, a box and a bank at this park.
Kashimayari – Kashimayari features Nakatsuna Freestyle Park including an iron ball, rails, bellows, boxes, poles and plastic pipes. It is ideal for those adventuring with park features as there are a variety of different sized features to practice on.
Iwatake – Iwatake has the "Love Snow Park" featuring a mix of items including kickers, wave, rails and boxes for beginner to advanced skiers alike.
Sanosaka – Sanosaka have updated their terrain park in the 19/20 season, with more rails, boxes and kickers for park enthusiasts to practice park skills on.
Want to get the longest runs possible and the most skiing out of your day?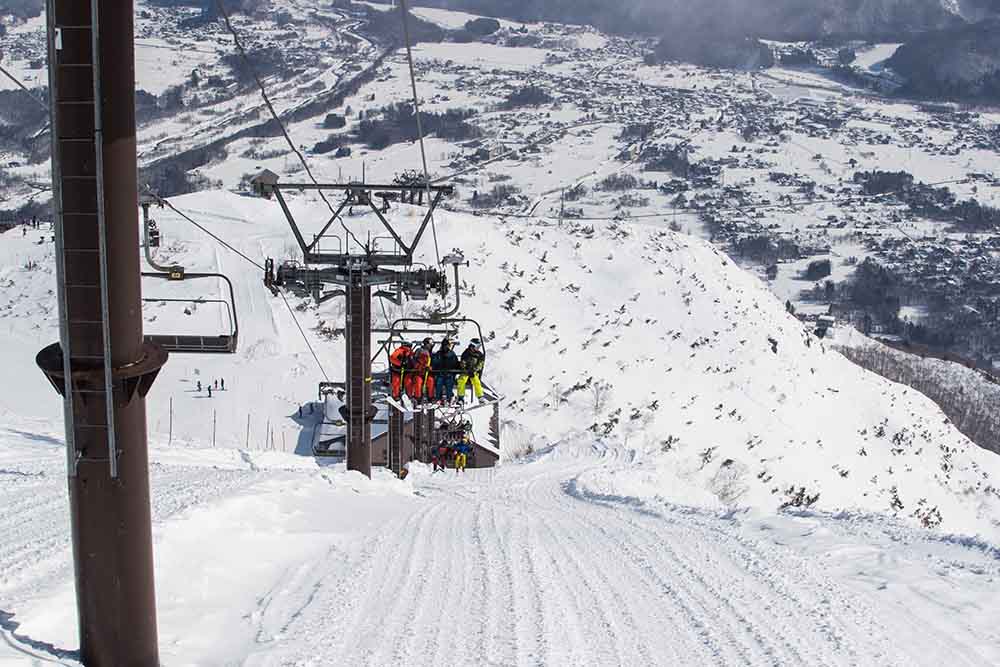 Happo One – Happo One has the longest run at 8,000m top to bottom, starting at the top of the Riesen Grat course through to the bottom of Sakka slopes. With a combination of steeper terrain to flat cat-tracks, this will give you the most riding time in one go.
Tsugaike Kogen – Tsugaike Kogen has a gondola that can take you to the very top of the mountain. You can then ski the longest run of 4,630m, and enjoy the comfort of the gondola ride back to the top again, and repeat.
Looking for a great photo opportunity?
Iwatake – With 360-degree panoramic views of Hakuba Valley and a summit terrace to enjoy these views at an altitude of 1,289m, Iwatake is a fantastic resort to take photos of the Alps after a snowfall.
Sanosaka – Sanosaka has arguably one of the best views, with the resort overlooking Lake Aoki. Photos featuring both the ski slopes as well as the incredible lake make this one of the most aesthetic resorts in Hakuba. Bonus if you find any dogs to take photos of while there, as this resort is dog-friendly!
Want the most varied terrain in your day?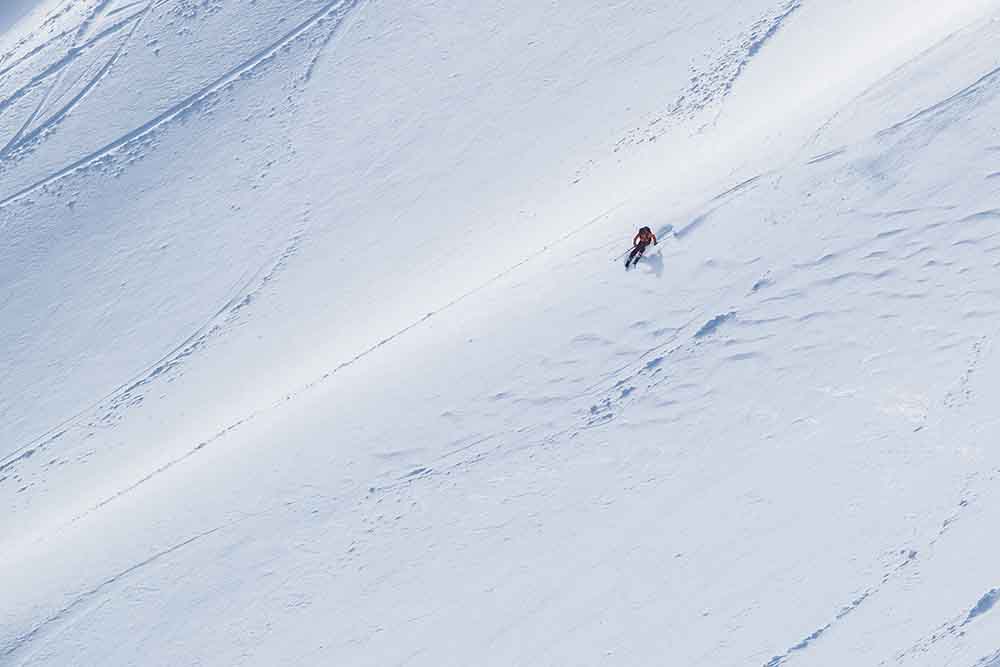 Happo One – Being the largest resort in Hakuba, Happo One has a great variety of terrain to choose from if varied terrain is desired. There is a mix of powder runs, groomed runs, mogul runs, gentle slopes, and off-piste/backcountry to explore in Happo One, that you could easily spend more than a day to experience it all.
Goryu / Hakuba 47 – With a combination of beginner-friendly slopes, terrain parks and more intermediate/advanced terrain, Goryu / Hakuba 47 are an excellent choice for a variety of terrain to enjoy during the day.
Tsugaike Kogen – Tsugaike Kogen has a great mix of beginner-friendly to intermediate slopes, powder pockets off-piste, a double black diamond zone, Snow WOW activity section for a full day of varied terrain.
A resort for everyone
With ten resorts in the Hakuba Valley, there is no shortage of options for skiers and snowboarders to enjoy the mountains as there is something for everyone – regardless of ability, desired terrain or location.
If you'd like to experience skiing in Hakuba we'd love to hear from you – contact the SKiJapan family today!
BOOK YOUR JAPAN SKI HOLIDAY